Apart from its main airports, Laos is accessible by land or water at many border crossing points where it shares border with its neighbouring countries (Thailand, Cambodia, Vietnam, and China).
This section provides information about Lao ports of entry (by air, land or river).

Lao International Airports
Wattay International Airport, Vientiane Capital
Luang Prabang International Airport, Luang Prabang province
Pakse International Airport, Champasak province
Savannakhet International Airport, Savannakhet province
Land border crossing or Checkpoints
The list of Lao border crossing points below is grouped by country in alphabetical order.
Most land border crossing points issue Lao visa on arrival.
The checkpoints that marked "No VA" do not issue visa on arrival. Travelers who wish to cross the border to Laos at these checkpoints need to obtain Lao visa prior to arriving.
Red dots on the map represent border checkpoints. Move the mouse cursor over them for details.
Cambodia - Laos
There is currently one (1) official checkpoint at the Cambodia - Laos border.
Dong Kralor - Veun Kham - The checkpoint links the Laos province of Champasak with the Cambodian province of Strung Treng, where Laos national road No.13 meets Cambodia national highway No.7. It is sometimes referred to as Stung Treng/Dong Kralor (some even spell it Dom Kralor) which can be confusing, but don't be confused. Whatever it's called or referred to, just remember that there is only one border crossing point between Laos and Cambodia that is currently open.

To make it a bit clearer, Stung Treng is a Cambodian province, while Dong Kralor is a sub-district in that province where the border crossing point is located. Similarly, Veun Kham is a village on the Lao side of the border so... that is where the name Veun Kham/Dong Krolor (or Dong Krolor/Veun Kham) border crossing comes from.
It might be worthwhile to note that in the past there were 2 check points, just a few hundred meters away from each other, however, one has been closed to foreigners a while ago. The closed crossing point is Stung Treng - Veun Kham, a river crossing (by long tail boats). This means crossing the Cambodia-Laos border at this check point is no longer possible for foreigners. The only place to cross is the Dong Kralor - Veun Kham check point.
IMPORTANT: Lao Visa-on-arrival is now available for travelers crossing border from Cambodia to Laos at Dong Kralor border check point. View update from a traveler who has obtained the visa there.
China - Laos
Mohan - Boten (Yunnan to Luang Namtha province)
Xiengkok riverport on Mekong River to Luang Namtha province. No VA
Sobhun checkpoint (Yunnan to Phongsaly province). No VA
Thailand - Laos
There are seven (7) Lao border crossings from Thailand open to foreigners. Borders here are listed from north to south.
Chiang Khong - Houy Xai (Chiang Rai Province to Bokeo province)
Nakaxeng - Kaenthao (Loei province to Sayabouly Province)
Nong Khai - Vientiane (Thai-Lao Freindship Bridge No. 1)
Bungkan - Pakxan (Nong Khai prov to Bolikhamxai prov.), No VA
Nakon Phanom - Thakhaek (Nakon Phanom prov to Khammouane prov.)
Mukdaharn - Savannakhet (Mukdaharn prov to Savannakhet prov via Thai-Lao Friendship Bridge No.2)
Chong Mek - Vangtao (Ubon Rathchathani Prov. to Champassak Prov.)
Note: Most Thailand - Laos border crossing points involve Mekong river crossing.
Vietnam - Laos
From Vietnam, travellers can cross border at these seven (7) Vietnam - Laos border crossing points.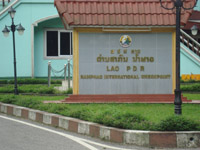 Tay Trang- Sobboun (Laichau, Vietnam to Pongsaly Province)
Nameo - Banteui (Thanh Hua to Huaphanh province)
Namkan - NamCan (Nge An to Xiengkhuang province)
Keoneua - Namphao (Hatinh to Bolikhamxai province)
Chalo - Napao (Guangbinh to Khammoun province), No VA
Lao Bao - Dansavanh (Quang Tri prov to Savannakhet prov)
Bo Y - Phukeua (Kon Tum prov to Attapu prov)