City Bus
Commuting buses in Vientiane Capital
Bus services in Vientiane Capital city - All buses running in Vientiane city and surrounding suburbs originate in the central bus station, located next to the Morning Market (known as Morning Market bus station).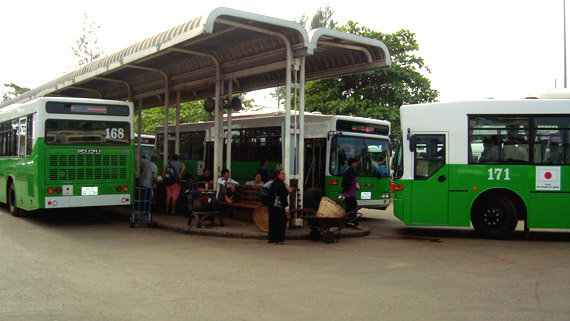 Morning Market bus station
The buses used for city buses are 45-seat, 25-seat and small electric vehicles that look like sightseeing buses.
The recently Japan-donated 45-seat buses (green-white) are air conditioned and mostly used for longer distances such as to Dong Dok, the Lao-Thai Friendship Bridge, Thangnon and Thalat, while 25-seat and electric buses run within the city and on the shorter routes.

City bus: Electric bus used for shorter distance routes
Main bus routes
Here is a sample of the main bus routes in Vientiane. They all depart from the Morning Market bus station and pass through a few places as listed. The buses can literally be flagged down anywhere along the routes.
Dongdok (National University of Laos)
Bus #29: Morning Market bus station → Patuxay → Phonkeng → Phonpanao → Kaysone Museum → Southern bus station →and Lao National University (Dongdok).
Bus #31: Morning Market bus station → Chao Anouvong national stadium → Thongkhankham market → Phonthong → Mittapab hospital → Sivilay → and Lao National University (Dongdok)
Bus #33: Morning Market bus station → Chao Anouvong national stadium → Thongkhankham market → Dongpalaep → Dondeng → Houyhong → and Lao National University (Dongdok)
Thadeua via Lao-Thai Friendship Bridge
Bus #14: Morning Market bus station → Thadeua road → KM3 → Sounmon → Jinaimo → KM8 → Lao-Thai Frienship Bridge → Thanaleng → Thadeua → and Buddha Park (locally known as Xiengkhuan).
Thangon
Bus #23: Morning Market bus station → Kaysone Museum → Southern bus station → Thangon.
Bus Fares
Fares for city buses start from 2,000kip (US$0.25) to 6,000kip depending on the routes.
Here are sample fares:
» Dong Dok : 4,000kip (UD$0.50)
» Lao-Thai Friendship Bridge: 6,000 kip (US$0.75).
For full bus schedules and fares please check out the Vientiane Capital State Bus Enterprise (VCSBE)'s webiste. They just recently launched their very first website, I'm glad that they finally did.
For city buses, you pay (cash) on board to the driver or his assistant. No need to buy ticket before hand.
There is no prepaid fare system in use at the moment, though a plan is in place for an electronic ticket/payment system. Hopefully it will be in use in the near future.
Frequency and reliability of City buses
There is a bus every 15 minutes for popular routes like Dong Dok and the Lao-Thai Friendship Bridge, and every 20-30 minutes for others. Although delays may occur during rush hours, the service is more reliable and more people are using it now than in the past.
Service hours
The service begins at 5:45am and ends at 6:00pm everyday, though some lower passenger demand routes have fewer buses and have shorter service hours (start late and end early).
How easy is catching buses in Vientiane?
Even though the new buses are marked both in Lao and English, it still can be confusing because there are no clear signs to follow (at the bus station).
Asking staff at the ticketing windows is the best and quickest way to find the right bus (it worked for me), and I'd recommend it.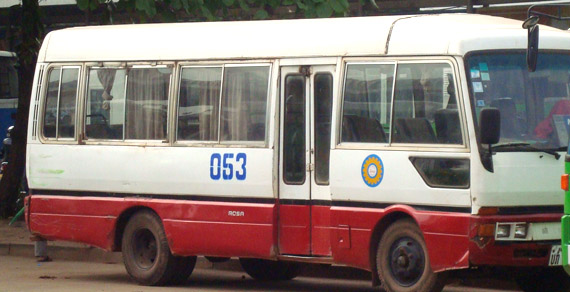 I recently took a bus from a suburb. It was a pleasant ride (nice, comfortable and cheap). However, after getting off the bus at the bus station, I needed to catch another one to my neighborhood but I couldn't locate the right bus without asking. There were no clear signs to tell you where to find the bus you need to take.
What about catching the buses at bus stops?
A number of bus stops (with shelters and seats) have been built in recent years, but most don't get used much because buses don't always automatically stop at the bus stops. And don't expect to find bus timetable or route maps at most bus stops.
If you need to catch a bus, just wait at the bus stop or some where on the roadside, and give a sign to the driver by sticking out your hand to wave the bus down. Same can be applied when you want to get off - just let the driver know when you need off
It's acceptable to flag down a bus in between stops. It is a common practice because in Laos buses are not very frequent especially in suburbs. If you miss one you might have to wait a long time for the next bus, that's one of the reasons the drivers are not so strict.
Although catching a city bus in Vientiane might not be your most exciting experience, it's a good way to observe locals' ways of life and it gives you a difference perspective of Vientiane. It's also cheaper, safer and more comfortable than riding in a tuk tuk in my opinion. Why not give it a try.
Not exactly what you are looking for?
Want to use the search box below to flip the WWW for more?
Go for it!
Home | What's New | Contact Us | Link to us | Resources | Disclaimer