Home stay in Laos
Are you looking for homestay in Laos? If you answer "yes" then this page is for you.
If you wish to experience the real Laos, learn about Lao culture and lifestyle, enjoying a homestay is one of the great ways to fulfil these wishes.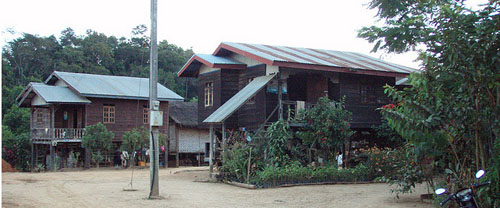 Staying in Lao family homes will give you the experience that you won't normally get when you stay in hotels. You will learn the culture, observe the ways of life of the locals through living in their homes, sharing food with them and taking part in their family activities.
Although there are many homestays on offer around Laos, they're not widely known as they are not advertised as well as they should be.
This page will provide a list of available homestays in Laos, how to arrange them and some (if not all) necessary information to help ease your homestay arrangement.
Some places with homestays in Laos
Northern Laos


Akha Village – Phongsali


Ban Chaleurnsouk- Luang Namtha


Ban Nam Dee - Luang Namtha


Ban Vieng Neua - Luang Namtha


Nam Ha Hill Tribe- Luang Namtha


Ban Saileck - Muang Sing


Ban Nam Deat Mai - Muang Sing


Nam Ha Hill Tribe
Central Laos


Ban Hatkhai – Phou Khao Khouay National Protected Area


Ban Na – Phou Khao Khouay National Protected Area

Southern Laos


Don Daeng – Champasak


Don Kho – Champasak


Sabaidee Donkhong – Champasak (Khong Island, in 4000 Islands)
How to arrange your homestay in Laos
One of the easiest ways to arrange a homestay is through a local travel agent.
Although it is more expensive, it is convenient and hassle free and will enable you to enjoy your stay without problems. The travel agent will take care of all the arrangements, provide an English-speaking guide, take you to the destination of your homestay and pick you up at the end.
Most homestays are offered as part of trekking tour packages.
However you can make your own arrangements, although this might be a little challenging, because the locals who you might need to deal with usually speak very little or no English. But with accurate information and determination, and if you can laugh or stay cool when misunderstandings happen, not only will you successfully arrange your homestay you will also have fun and memorable experience.
Here is contact information (for booking) for each homestay listed on this page.
Homestay

Contact Information for Booking

Through travel agents
Direct (do it yourselves)
Akha Village (Phongsali Province)

Tiger Trail – Outdoor Adventures Laos

Tel:+856-(0)20-7125 2655
+856 (0)20-7125-5035
info@laos-adventures.com

Phongsali Provincial Tourism Department

Tel: +856 (0)81 212483
ptd@oudomxay.info
Ban Chaleurnsouk (Luang Namtha Prov.)
Tel:+856-(0)86-211 534
Fax:+856-(0)86-312 047
luangnamtha@hotmail.com

Luang Namtha Provincial Tourism Department (Mr Somsavath)

Tel: +856-(0)20-2239 0197
coo_vath@hotmail.com
Ban Nam Dee Homestay (Luang Namtha Prov.)
Phouiu Travel
Tel:+856-(0)86-260 015
Fax:+856-(0)86-260 015
phouiu_travel@hotmail.com
Ban Vieng Neua (Luang Namtha Prov.)
Ban Saileck (Luang Namtha Prov.)

Ban Nam Deat (Luang Namtha Prov.)

Nam Ha Hill Tribe (Luang Namtha Prov.)
Nam Ha Hill Tribe Eco-Trek
+856-(0)86-26 00 15
+ 856-(0)20-9944 0084
trekvpk@hotmail.com
Ban Na (Bolikhamxay Prov.)

Major tour operators, and

Green Discovery Laos
Tel: +856-(0)21-26 46 80 info@greendiscoverylaos.com
Villager (Leader)
Mr Bounthanom or some one else (contacts are rotated)
Tel:+856-(0)20 2220 8286
+856-(0)20 2220 8262
Ban Hatkhai Bolikhamxay Prov.)
Villager (Leader)
Mr Bounthiang or
M. Khamoune or some one else (contacts are rotated)
Tel: +856-(0)20 2224 0303
Don Daeng (Champasak Prov.)

Major tour operators, and

Champa Mai Travel
+856-(0)31 212 930-2
sonethida02@yahoo.com
District Tourism Office or Provincial Tourism Office in Pakse
Tel: +856-(0)31 212 021
Don Kho (Champasak Prov.)
Major tour operators
Sabaidee Donkhong, Restaurant & Homestay (Champasak Prov., Khong Island)
Kangkhong village,
Khong Island,
Champasak Laos
Contract Mr Khamla
Tel: +856-(0)20 59692777
donkhonghome@outlook.com


If you dial from overseas you need to omit the zero in the brackets (0) or it won't work.
Homestay in Laos, what is it like?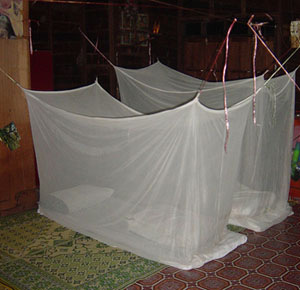 Most homestays in Laos are usually established by ecotourism projects or community-based development projects to help locals to generate income as a way to alleviate poverty. All are run by villagers (in rotation) with the supervision of the Lao Tourism Administration. The fee you pay will directly benefit the host families and their community.
For example, Akha Village homestay in Phongsali province is part of UNODC (United Nations Office on Drugs and Crime) project. The project was established to help the villagers to create an alternative source of income after opium growing was prohibited (villagers were opium growers in the past).
To help the villagers overcome hardship, the UNODC, PADF
(Phongsali Alternative Development Fund) and local authority established a tourism project with marketing support from Tiger Trail travel agent. The villagers learned skills through the project and now run and manage their homestay and tourist activities by themselves.
Usually the villagers provide their family homes as a homestay and that means you'll be sharing the house with them.
In some villages a separate house is built and owned by the community. It is a kind of multi-purpose building used for community meetings, events or ceremonies such as weddings, and also as a dormitory homestay when needed.
As most homestays in Laos are in rural areas, bear in mind that things are very basic. For instance toilets are normally tiny huts outside the house and you use water from a bucket to flush, bathing is often in a nearby river or by scooping water from buckets to pour over yourself, food is usually home cooked Lao food, using local ingredients collected fresh from forest or back yard garden and sleeping is under a mosquito net in dormitory type house (private rooms are rare). However, sleeping bags, foam mats and mosquito nets are usually supplied.
To make the most of your stay you should be prepared for some new experiences and allow yourself to sink into the local rhythm of life. If you can do that you will be able to live the way the locals do thus really enjoy your stay.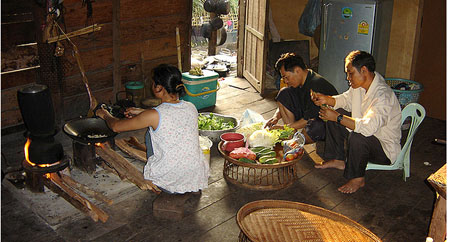 Prices
The price varies from place to place. It also depends on how you do it (with a tour group or by yourself).
If you go by yourself, direct to the village, you can be looking at around US$10+/person/night depending on location.
Here is an example of a break down estimation (based on minimum costs).
Accommodation: 20,000kip (US$2.50)/person/night, it can vary.
Food: 60,000kip (US$7.50)/person/day (US$2.5 per meal, 3 meals a day), it can vary.
Transport to/from nearby town: varies depending on locations. It can range from US$1-US$10.
Activities: Varies (US$2.5-US$10)
Village fund: Varies (starts from US$1)
If you go through the travel agent, the price starts from around US$20/person/night. Again it varies greatly from one travel agent to another, it also depends on the group size (max of 8 people) and the length of your stay (the larger the group and/or the longer you stay, the cheaper it is).
There you go. Hope you find it helpful. And enjoy your homestay in Laos
Note: The prices are provided as a guide only, I'd recommend that you check with the travel agent or contact provincial tourism office of the place you intent to go for current prices.
Home | What's New | Contact Us | Link to us | Resources | Disclaimer