Laos Guest Houses
Every traveler would agree that accommodation eats up a large part of their travel budget.
If you're travelling on a tight budget and would like your dollars to go further, the first area to look into is your accommodation. Cut down your accommodation expenses by staying in guesthouses instead and you can save a good sum of money.
Most Laos guesthouses have all the facilities that a person needs to be comfortable such as clean beds, private bathrooms with hot/cold shower, cable TV, and Air-con. Best of all they are cheap.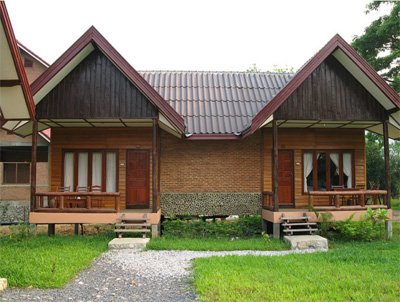 In the tourist centres of Laos you will find a variety of budget guesthouses. Most offer decent rooms in the price range of US$5-30.
Mid-level range guesthouses have sprung up in recent years with many options available in the US$15-50 range.
Lao guesthouses are often filled up during the busy period of December to February and Lao New Year (April). In main cities and touristy towns like Luang Prabang and Vang Vieng they are fill up even faster during these periods. It is definitely worth booking ahead.
Even though a handful of guesthouses are available for booking online, most cheap guesthouses are a bit difficult to book through the internet. Why? ...because they don't have websites nor are they listed on specialist hotel booking sites. However, it is possible to book by email, fax or phone (guesthouse listed below have contact numbers). They also have reasonable English skills and a decent level of reliability and flexibility when holding reservations.
If you need a helping hand to book guest houses in Vientiane that can't be booked online, feel free to contact me through the contact form. I'll try to get back to you as soon as possible, but please allow at least 24 hours.
I've gathered a handful of guesthouses as listed here for your convenience, as examples or to use as a starting point.
Laos Guest Houses
Downtown Vientiane Capital
Bouasy
134, Rue Chanthakoummane, Vientiane
Tel: +856 21 215 457
KPP
123/4, Rue Chao Anou, Vientiane
Tel: +856 21-218-601
Fax: +856 21-219-759
Lao Sakonh
015/2, Rue Francois Ngin, Vientiane
Tel: +856 21 216 571
Mali Namphu
114, Rue Pangkham, Vientiane
Tel: +856 21-215-093, +856 21-263-297
Fax: +856 21-263-298
Website: www.malinamphu.com
MiMi
9, Rue Francois Ngin, Vientiane
Tel +856 21 250 773

Mixay
056, Rue Nokeokoummane, Vientiane
Tel: +856 21 243 400
Naphavong
040/20, Rue Chao Anou, Vientiane
Tel: +856 21-240-888
Phone Paseuth
97, Rue Pangkham, Vientiane
Tel: +856 21-212-263, or +856 21-217-053
Fax: +856 21-261-395
PP
Rue Fa Ngoum, Vientiane
Tel: +856 21 252 757
RD
37-01, Rue Nokeokoummane, Vientiane
Tel: +856 21 262 112
Santisouk
77/79, Rue Nokeokoummane, Vientiane
Tel: +856 21 215 303
Saysouly
23, Rue Manthatourath, Vientiane
Tel: +856 21-218-383, +856 21-218-384
Fax: +856 21-223-757
Website: www.saysouly.com
Soukchaleun
121 Rue Setthathirath, Vientiane
Tel: +856 21 218 723
Vayakorn
091, Rue Nokeokoummane, Vientiane
Tel:  +856 21-212-719
Fax: +856 21-212-719
Website: www.vayakorn.com
Youth Inn 1
029, Rue Francois Ngin, Vientiane
Tel: +856 21-217-130
Luang Prabang Guesthouses
Bellevue Bangalows (From: USD 20)
Khoua Khao Street(Old Bridge), Ban Muang Nga, Luang Prabang
Golden Lotus (From: USD 25)
Ban Pakham, (Near Wat Mai), Luang Prabang
Oui's Guesthouse (From: USD 28)
14 Sukkaserm St. Ban Khily, Luang Prabang
Pack Luck Villa (From: USD 30)
Ban Vat Nong, Pha Gnalluangmuangchan Road, Luang Prabang
Riverside (From: USD 25)
Ban Khili Village, Luang Prabang
Saynamkhan (From: USD 30)
Sackaline Road, Ban Wat Sane, Luang Prabang
Sokthavy Inn (From: USD 35)
Ban Horxieng, Luang Prabang
Sopha House (From: USD 15)
52 Banwatsene, Kingkitsarath Rd, Luang Prabang
Thony 1 (From: USD 25)
Ban Visoun, Chao Chomphou.Rd., Luang Prabang
Vanvisa (From: USD 12)
42/2 Ban Wat That, Luang Prabang
Vanvisa at the Falls (From: USD 20)
Ban Pha Pene, Luang Prabang

Villa Merry No.1 (From: USD 20)
Ban Visoun, Chaoxomphou Road, Luang Prabang

Villa Suan Maak (From: USD 17)
092 05 Noradeth Rd., That Luang, Luang Prabang
Villa Muangswa (From: USD 18)
205, Phouvao rd, Luang Prabang
Tel:(856-71) 212263 / 254428
Email: muangswa@yahoo.com
Website: www.villamuangswaluangprabang1.webself.net
Villa Sayada (From: USD 29)
Phommathat Rd, Ban Visoun, Luang Prabang
Champasak (Pakse and Four Thousand Islands)
Daovone (From: USD 5)
Thangkhov Village, 14A Rd, Champasak Town
Dok Champa (From: USD 7)
Ban Watmuangsen, 14A Rd, Champasak Town
Don Khong (From: USD 13)
Ban Khang Khong, Khong District, Champasak Province, Khong Islands
Mr. Mo Guest House (From: USD 15)
Ban Don Det, Khong District, Champasak Province, Don Det Islands
Nouphit (From: USD 7)
Ban Don Det, Khong District, Champasak Province, Don Det Islands
Pan's Guest House (From: USD 22)
Ban Khone tai ( Khone Island), Khong District, Champasak Province, Khong Islands
Phimphone (From: USD 4)
Ban Nongsa Watphou, Champasak District, Champasak Town
Saythong (From: USD 5)
Ban Watthong, 14 A Rd, Champasak District, Champasak Town
Somboun (From: USD 7)
Ban Nongvieng 14A Rd, Champasak District, Champasak Town
Somphamith (From: USD 10)
Ban Khone, Khong Didtrict, Champasak Province, Don Khone Islands
Souchittra (From: USD 7)
Ban Watthong, 14 A Rd, Champasak District, Champasak Town
Thavisab Hotel (From: USD 18)
Ban Muangsen, 14A Rd, Champasak District, Champasak Town
Thawan Daeng (From: USD 8)
Ban Don Det, Khong District, Champasak Province, Don Det Islands
Vong Paseud (From: USD 5)
Ban Amard, Champasak District, Champasak Town
Xaymountry Residential (From: USD 9)
Ban Khone tai, Khong Distrcit, Don Khone Islands

Home | What's New | Contact Us | Link to us | Resources | Disclaimer