Laos Visa On Arrival
Obtaining Laos visa on arrival is the most convenient, cheapest, and time saving way to get a Lao visa. Great for those who are tight on time, resources, energy and Lao embassies/consulates are too far to reach.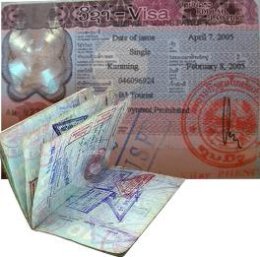 The visa obtained on arrival is usually tourist visa, the holder of this visa can stay in Laos for up to 30 days, and are prohibited from getting employment in Laos.
As a matter of fact, other type of visas such as business and official visas can be picked up on arrival as well, provided that you have arranged everything ahead of time and you have a letter of approval (or an entry visa number) from Ministry of Foreign Affairs of Laos.

Where to get Laos visa on arrival
 Thailand-Laos
Chiangkhong – Houixay, Chiang Rai to Bokeo Province;
Nakaxeng – Kaenthao, Loei to Sayabouly Province;
Houi Koln – Nam Ngeun, Nan to Sayabouly Province;
Lao-Thai Friendship Bridge I, Nongkhai-Vientiane Capital;
Tha Naleng train station in Vientiane;

Lao-Thai Friendship Bridge II, Moukdahan-Savannakhet Province;
Lao-Thai Friendship Bridge III, Nakorn Phanom-Khammouane Province;
Chongmek – Vangtao, Ubol Ratchathani to Champasack Province;
  Cambodia-Laos
  Vietnam-Laos
Nameo – Banleui, Thanh Hoa to Huaphanh Province;
Namkan – Namkan, Nge An to Xieng Khouang Province;
Keoneua – Nampao (Lak Sao), Ha tinh to Bolikhamxay Province;
Laobao – Dansavanh, Quang tri to Savannakhet Province;
  China-Laos
Mohan – Botene , Yunnan to Luang Namtha Province.
Requirements:
Your original passport with at least 6 months of remaining validity and a blank page for a visa sticker.
A Visa application form, filled out and signed by the applicant (available at visa window at Lao ports of entry or given before landing if you are arriving by plane).
Two(2) recent passport-type photographs.
Visa fee (in cash).
If you are unprepared like many of us (cannot provide the photo) there will be an extra fee (few dollars) for scanning your photograph from your passport, and placing it onto your visa application form.

Travel tip: Stay 24*7 connected to work no matter which part of the globe you are by accessing your online private work space remotely from anywhere on any device(PC/Mac/android/iOS) with high performance citrix vdi from CloudDesktopOnline. Power by: Apps4Rent.com
How to get Laos visa on arrival (requirements and steps)
Steps to apply for the Laos visa on arrival:

If you want to be prepared and if you have access to a printer, download the visa application form from the download box below. Print and fill it out and take with you, otherwise wait till you arrive;

Download visa on arrival form
On arrival, head to the window marked visa on arrival (don't waste your time lining up at the immigration window if you don't already have the visa);
In most ports of entry including the Lao international border crossing points and Lao International Airports (Vientiane, Luang Prabang, Pakse and Savannakhet) the Laos visa on arrival window is located at the arrival channel (before or next to the immigration windows).

If you have not already pre-filled the application form, get it at the window and fill it out (if you arrive by plane, the visa form as well as immigration form should be given to you before landing, get them ready before leaving the plane);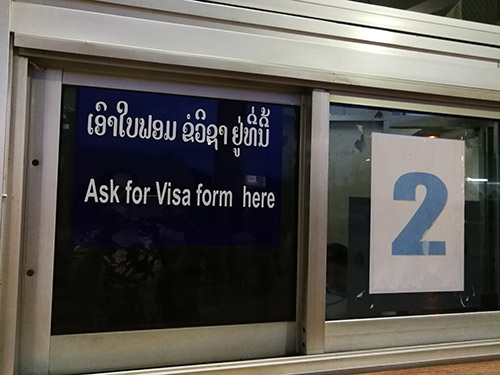 Submit the completed form together with your passport and 2 photographs;
Pay the visa fee (cash, payable in US dollars), a complete list of fees is usually placed at the window for your reference;
After providing everything needed, wait nearby, your name will be called once your visa is ready;
The visa processing time varies between ports of entry. At major airports or at Lao-Thai Friendship Bridge in Vientiane it takes around 10-15 minutes. Delays are possible in late afternoons, weekends and public holidays at both visa window and immigration windows especially at the Lao-Thai Friendship Bridges.
Please note that if you plan to arrive by bus through Lao-Thai Friendship Bridge in Vientiane Capital, and need to get Lao visa on arrival, you need to make sure with the bus driver that he will wait for you, otherwise you may end up having to find another transport to the city and pay another fee as the bus usually runs by schedule and sometime leaves behind the passengers who wait for their visa.
What's the fee for Laos visa on arrival
Country      Price (US Dollar)
Australia         30
Canada           42
China               20
India                40
Sweden          31
USA                 35
UK                   35
Others            30
If you cannot find your country on the list, you can assume it costs $US30 (Others), or otherwise your country may be in "not eligible" countries list.
Check out >>

Note: On weekends, Lao public holidays, before 8am and after 4pm weekdays, there is a $1 over time fee. In addition an entry fee (2,500 Kip or so) may be charged.

At Thai-Lao international border checkpoints Thai Baht may be accepted for Laos visa on arrival fee, I'd recommend paying your visa fee in US dollars to avoid loosing money through unfavorable exchange rates.

Similarly, if you want to save a bit here and there when in Laos, it is better to pay in the currency quoted whether it is US dollars, Lao Kip or Thai Baht whenever possible to avoid converting from one currency to another. You might want to apply this strategy when paying your hotels, restaurant and shopping bills especially if it is a large sum of money.

Who CAN get Laos Visas on Arrival?
All foreigners intending to visit Laos as tourists, except for citizens of the countries listed under "Who CANNOT get Laos Visa on Arrival?" below.
Who CANNOT get Laos Visas on Arrival?
These following (29) countries' passport holders are not eligible for Laos Visas on Arrival. (Effective from 15 October, 2009)
A special exception is given to officials travelling to Laos on official mission. Provided that you have an invitation letter from a host organisation in Laos and that you hold a guarantee letter provided by the Ministry of Foreign Affairs of Laos, you can pick up your Laos visa on arrival. It is however, advised that you consult with your Lao counterpart to get a clearer understanding or instructions to save you time and hassles.

Afghanistan
Algeria
Bangladesh
Burundi
Cameroon
Congo
Cote d'Ivoire
Ghana
Guinea
Guinea Bissau
Jordan
Lesotho
Liberia
Libya ( Libyan Arab Jamahiriya )
Mozambique
Nauru
Niger
Nigeria
Pakistan
Senegal
Sierra Leone
Sri Lanka
Suriname
Syria ( Syrian Arab republic)
Swaziland
Tonga
Turkey
Zambia
Zimbabwe
How can the citizens of the countries in the ineligible list get Lao visa?
You have two (2) options:
1. Get your visa online (eVisa). You can conveniently apply for eVisa from home. Check if you are eligible for eVisa, not all nationalities are eligible. 
2. Get your visa at Lao Embassies or Lao Consulates.  According to notice No. 1232 issued on 1 October 2009, issued by the Ministry of Foreign Affairs of Laos.  If you are a passport holder of one of those 29 countries ineligible listed above, you can get Lao visa at Lao Embassies or Lao Consulates in your country or region. 
However, if there is no Lao embassy or consulate in your area, you may need to plan your travel route to pass through one of Laos' neighbor countries (Thailand, Cambodia, Vietnam, China or Myanmar), there are Lao embassies in these countries.  You need at least two days there to sort your Lao visa out before heading to Laos. 
More articles on Visa
Like This Page?