Travel by Bus

Into and around Laos

"As public transport in Laos is neither comprehensive nor convenient and sometimes nonexistent, there are not always many choices. You may just have to settle for whatever available".
This statement is not entirely true nowadays because the bus system has relatively improved in recent years and there are more comfortable, air-con buses in service (known as VIP) that operated by private companies, in addition to regular government-owned buses.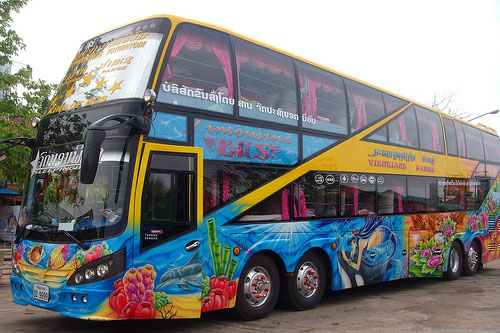 VIP sleeper bus
Travel by bus into Laos

Getting into Laos by bus from its neighbour countries Thailand, Cambodia, Vietnam and China (not Myanmar at present) is fairly easy and cheap.

The buses used for long journeys such as Laos - Thailand buses are better, cleaner, and a lot more comfortable than those used for local commuting.
However, for some routes such as Vientiane - Hanoi and Vientiane - Kunming  the journey takes a very long time. A seem-to-be comfortable seat at the beginning might become a tough and uncomfortable one after hours of sitting. 
Find your bus
Search and book tickets online
Type departure city, destination and select date then click Find Tickets
Basic requirements for border crossing
To travel by bus into Laos, as a foreigner you need to carry:
Your valid passport;
Valid visa (if you are eligible) as not all border crossing points can issue visas on arrival;
Your passport must have at least six month of remaining validity and at least one whole blank page;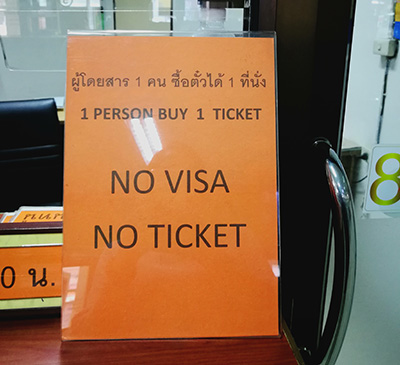 Visa sign at ticketing window
If you plan to get a Lao visa at the border crossing point (known as visa on arrival), make sure you have 2 photos (passport-type), and cash in US dollars for the visa fee, which varies according to your nationality.
It's wise to have the exact amount to avoid hassles because the visa officers often do not have enough or no changes. Alternatively they might give you change in Lao Kip at an unfavourable rate.

Follow this link for information on visa on arrival and to see if you are eligible.
Follow this link to see if you are exempt for Lao visa.
Visa note:
If you plan to travel by bus into Laos, and get Lao visa on arrival, please note that it is not possible when you use international bus services from Thailand crossing the Friendship Bridge to Vientiane (either from Bangkok, Khon Kaen, Udonthani or Nongkhai ). You need to present your passport when you buy a bus ticket, if you have not already got Lao visa on your passport, you will not be sold a ticket (no visa no ticket as the sign says). Except for citizens of ASEAN countries and citizens of some countries that Laos granted visa exemption.
Travel by bus within Laos
As Laos has no train system apart from the very short distance cross-border train from Nong Khai in Thailand to Tha Naleng station in Vientiane, buses are the main form of public transportation for long distance trips in Laos. The bus network covers all provinces, though the density is not that great.
Public buses (government-owned) operating out of Vientiane Capital caters mostly to the capital's outlying districts with a service to few towns out of Vientiane such as Vang Vieng, Xiengkhuang, Thakaek, Savannakhet or Pakse.  
Many private companies offering VIP buses have newer looking, more comfortable buses with better service, and more frequent departures. They provide buses connecting Vientiane (bus stations) with main hubs like Luang Prabang and Pakse.
From these bus hubs there are regular, local buses connecting surrounding districts as well as border towns.
In Laos you can hail the buses from the side of the road and pay for your ride once on board or before getting off. No need to go to the bus terminal. It is more practical in remote areas where buses don't often get full, and it takes too much effort to get from one point to another. Similarly if you want to get off at any time during your trip, just alert the driver and he will drop you off.
In larger towns or in Vientiane Capital where there are more passengers and during festive season like New Year, to secure your seat you need to buy tickets at the bus station at least an hour before departure time. Alternatively you can buy your tickets from a travel agent; a little more expensive, but will include transport to the bus station. 
It is now possible to buy your bus ticket online, although only more popular routes are available at the moment. Use the search box to find your bus.
Find your bus
Search and book tickets online
Type departure city, destination and select date then click Find Tickets
Bus stations in Vientiane Capital
In Vientiane Capital there are THREE bus stations, each cater buses to different destinations. Read on for more information.
Central Bus Terminal
Locally known as Khua Din or Talat Sao (Morning Market) bus station, is located in between the Morning Market and Khua Din Market. It has bus services to nearby places in and around the capital city (City Bus), a few further destinations in Laos, and northeast Thailand. For details on Thailand - Laos buses, View Laos-Thailand Bus page.

It is also possible to catch a bus to Vang Vieng, Thakaek, Savannakhet or Pakse here, but the other stations have better buses and more frequent departures for these routes.
Northern Bus Terminal
Located on Sithong Road (relocated from T2 road), around 7km from city centre. This is the main departure point for buses to northern destinations, Vang Vieng, Luang Prabang Xiengkhuang and other provinces in the north as well as buses to China.
Southern Bus Terminal
Located on 450 road (relocated from Kaysone Phomvihane Avenue or road 13 south in Dong Dok), around 9km from city centre. This new location is just aroud 900 meters away from the old one . This is the main departure point for buses to the south as well as buses to Cambodia and Vietnam.
Links below will lead you to more specific information on various destinations.

Have a safe and pleasant trip.

Other bus pages
Like This Page?