Vientiane Airport Transfer
Looking for Vientiane Airport Transfer?  Find out what is available, from cheap public transportation like airport shuttle bus to an affordable private taxi (car or minivan) and how to book it.

Vientiane Airport Transfer - Available Options 
Taxi from Wattay International Airport, Vientiane
Vientiane Airport Transfer – Offered by your hotel
Most high end hotels offer free airport transfer when you book a room(s) with them. You might want to shop around to get a free transfer before booking your hotel. 

Vientiane Airport Transfer – Airport Shuttle Bus
Vientiane Airport Shuttle Bus
Supper Cheap, convenient, comfortable (air-con bus) plus free Wifi on board, but quite slow and not door-to-door service, only drops you off at designated bus stops. 
The airport shuttle bus runs in a loop, originating at the Central Bus Station next to Morning Market, passing through several hotels.
There is a bus every 40 minutes with the first one departing the station at 8:05am, and returning from the airport at 9:00.  The last bus from the bus station is at 9:35pm and from the airport is at 10:20pm. Check timetable ››
If you are not in a hurry and don't mind getting from the bus stop (walking or taking a Tuk- Tuk) to your accommodation, this Vientiane Airport transfer option is the way to go. It's cheap (15,000k or around US$2 per person) and comfortable with air-conditioned. Even if you run into a congested bus, it will still be Ok as it is only a short ride. The airport is only about 5 kilometers from city center and most hotels.
Hotels on route:
      Airport - City
Mekong hotel
Summerset serviced apartment
AV hotel
Sabaidee@Lao hotel
Settha Palace hotel
Vientiane Plaza hotel
Chaleunxay hotel
     City -  Airport

Chaleunxay hotel
Vientiane Plaza hotel
Settha Palace hotel
Lao Plaza hotel
Backpacker Garden hostel
Crowne Plaza
Mercure hotel
Vientiane Airport Transfer – Airport Taxi
Convenient, getting to your destination fast and comfortable, door-to-door, not supper cheap but affordable, may have to wait in the line a bit.

Airport taxi is available at both international and domestic terminals. The taxi counter is located by the exit, when you walk out from the baggage claim area you will see the taxi counter right beside the exit gate.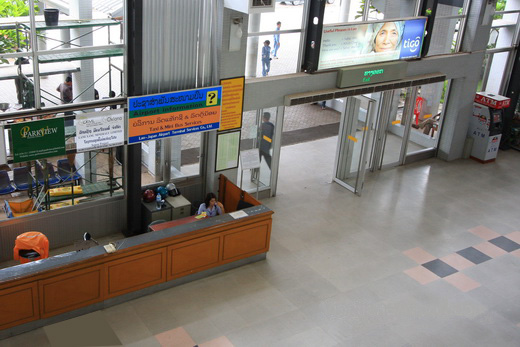 Taxi counter at Wattay International Airport, Vientiane
Buy a taxi coupon at the counter, fee starts from US$8 to center area of Vientiane. Once you have your coupon, a designated driver will help you with your luggage and leads you to the car/van. 

Airport Transfer – Private Taxi
Convenient, can book in advance, probably costs a bit more than airport taxi but you have peace of mind knowing you will be picked up as soon as you exit the terminal, no waiting, no line up.

As the name suggests it is a private taxi, you have the whole vehicle to yourself/selves. The price is per car (or minivan) not per person. A car can carry 3 or 4 people and a minivan can carry up to 7 people.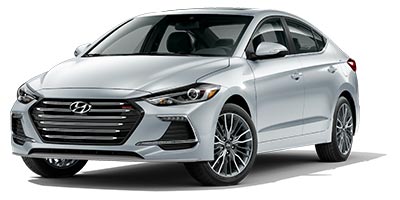 I would recommend it if you travel in a group of friends or family especially with small children. It is easier to hop on a taxi as soon as getting out of the arrival terminal instead of having to wait in the line and dragging your luggage and small child around to get on public transport. Most drivers speak some English, so…your journey will be smooth and hassle free.

Benefits of Airport Transfer – Private Taxi service
Inexpensive – you pay a flat rate. The fee is fixed at the time of pre-order. There will be no extra charge if the driver has to wait for you.
Peace of mind – Being able to organize your transport in advance and knowing you will have someone to meet you at the airport to make it all go smoothly, with no surprises. You will appreciate this more when your flight arrives late at night.
Convenient – comfortable ride in an air-conditioned car or minivan to your accommodation, no waiting for a taxi, or public transport service. 
An English-speaking driver will be waiting for you at the airport terminal holding a sign with your name(s) on it. He will help you with your luggage and take you directly to your hotel. 
Like This Page?