Green Park Boutique Hotel
(Vientiane)




If you are looking for a hotel with a relaxing environment, good food and good service, Green Park Hotel is the place to go.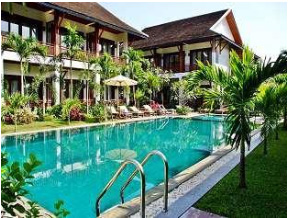 This well-decorated hotel has all the modern facilities one needs yet still has local character. It offers luxurious contemporary Lao and traditional Lao hospitality. A combination of the elegance of the interior, and the glorious setting offers the distinguished feeling of style, luxury and relaxation.
Its location is what makes the hotel attractive for travellers looking for a place to relax in a comfortable, peaceful and quiet atmosphere. It is a bit outside the town centre but walkable, and just away far enough to escape the busy traffic in the centre.
Government offices and main attractions are within easy reach. Wattay International Airport is around 15 minutes away by car. The city centre is 5 minutes by car or Tuk-Tuk, and around a 10-15 minute walk.
The bus station and shopping centre (Morning Market Mall) is around 5 minutes walk from the hotel.
The hotel provides frequent free shuttle buses to town and major attractions such as Patuxay and That Luang and ancient temples. They have scheduled pick-ups, and special arrangements can be made if needed. The hotel also offers free use of their bikes.
The guest rooms are well appointed with unique touches and decoration. They are large, comfortable and quiet which make the hotel an ideal place to relax and give yourself special treats.
The out door swimming pool is charming and shaded at a certain times of day.
All guest rooms and suites are air-conditioned and feature wireless Internet access, cable television, IDD telephone and private balconies.
Bathrooms are luxurious, clean and large with stylishly unique settings, so you can look out the window at the greenery whilst sitting in the bath.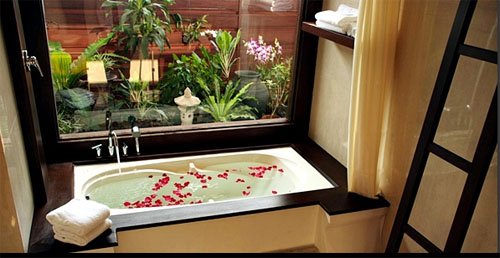 The complementary buffet breakfast offers a wide variety of food to choose from.
The hotel has a small bar and restaurant, Sala Nong Chan, offering a good choice of food and drinks. Guests can enjoy local and international cuisines at lunch and dinner. Their French cuisine is especially good.
Champa Lao spa offers a good selection of services including massages, body and facial treatments. It is an ideal place to give yourself a special treat once in a while, especially when you are on a holiday.
There is a business centre and a conference room equipped with all necessary amenities including wireless and cable internet, telephone, fax, printers, scanners, microphones, overhead projectors. It is ideal for small corporate meetings and gatherings.
For more information visit their website, you will find detailed information on room types and up-to-date rates. They often provide special promotional rates, however booking rooms through the hotel own website is usually more expensive than booking through the affiliates's sites.... so always compare the rates before booking if you want to save.
For your convenience, here is the link to the third party booking site. You can check availability, rates or book.
Green Park Boutique Hotel
12 Khouvieng Road
Phone: +856 21 264 097
www.greenparkvientiane.com
Some more great pages
Don Chan Palace Hotel
Laos Accommodations
Lao Hotels
Vientiane Hotels
Luang Prabang Hotels
Pakse Hotels
Laos Guesthouses
Apartment Rental and Monthly Hotels
Home | What's New | Contact Us | Link to us | Resources | Disclaimer