Luang Prabang

The top ranking tourist destination


Luang Prabang is a Lao province located in the northern part of the country. The city sits at the confluence of Nam Khan River and the Mekong River enriched by mountainous backdrop that makes it Laos' foremost tourist showpiece.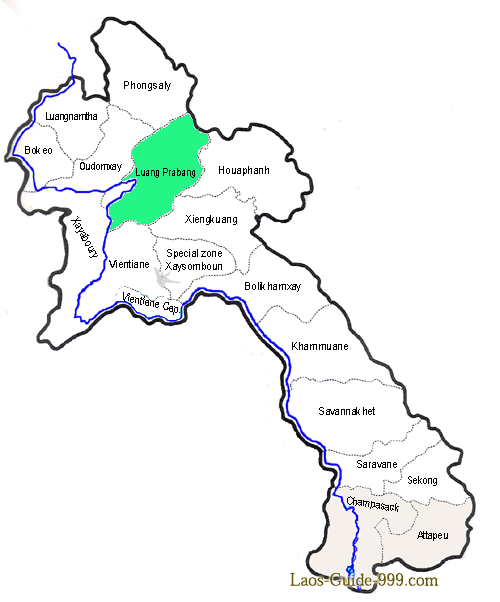 Luang Prabang location map
It shares border with Oudomxay, Phongsaly and Huaphan provinces to the north, Vientiane and Xayaboury provinces to the south and southwest, and Xieng Khuang province to the east.
The city was formerly the royal capital and seat of the government of the ancient Kingdom of Lane Xang or the Land of Million Elephants.
Luang Prabang is a charming city with a lot of French colonial houses scattered in every corner of the city, small alleys with bougainvillea flowers in front of the houses, cafes with dim lights and cute outdoor terraces.
The sense of calm antiquity that first brought visitors to the city when Laos opened to tourism in late 1980s has been well preserved. The town was declared a UNESCO World Heritage site in 1995.
It has both natural and historical sites, and it's well known for its numerous Buddhist temples, its monks and its well-preserved culture and traditions.

Almsgiving procession is one of the most popular tourist attractions.
Haw Kham, the former royal palace, (now the National Museum) is among the most well-known historical sites in the city.
Phou Si, a steep hill located at the city centre opposite Haw Kham, is one of the major landmarks in the city. From the top you can see the most beautiful sunset or sunrise if you make up at the right time.

Royal Palace Museum
One of the highlights for most visitors to this city is the early morning procession of hundreds of monks from the various monasteries who walk through the streets collecting alms. It means getting up early, but it's worth the effort.

For what it is and what it has, Luang Prabang has been considered one of Southeast Asia's "must see" destinations for over a decade.
Its landscape, golden stupas, monks, natural and historical sites, ancient traditions and cultures all come together forming a unique charming town, the like of which is increasingly hard to find in the region.
In 2008 the New York Times put Laos at the top of their list of "Places to Go".
In addition, this World Heritage city received the top award for "Top City " for three consecutive years from 2006-2008. In 2009 it was one of the top 10 in the same category. It won the "Top City" award three year in a row again in 2010, 2011 and 2012.

Worldwide readers of Wanderlust, a leading British travel magazine, voted Luang Prabang as the best city in the world to visit. Quoted from Wanderlust "This top city isn't about bright lights and fast living. No, laid-back Laos city Luang Prabang likes to take things slow. Really slow. You can't get enough of its serene temples and jungle ecolodges", this is so true.

That is not all, Luang Prabang also ranked 1st in the "Top 10 Travel Destinations for 2012 According to Facebook". 

The charms of the city plus these awards are making it more and more popular. It now boasts an international airport with daily flights from/to Thailand, Vietnam and Cambodia, which encourage people to fly directly in and out to see this World Heritage town. More travelers seeking a relaxing holiday arrive in Luang Prabang everyday.

If you have hectic or stressful lifestyle, you will appreciate the relaxing atmosphere of the town.

Perhaps a stroll about town, watching the local life pass by, or simply lounging in a quiet café with a baguette and coffee can be just what you want. Or maybe a tasty Lao meal and a cold Lao beer while watching the sunset by the Mekong River is not a bad idea either.
If you are into natural travel, there are numerous lovely sites to visit and many activities where you can get at one with nature.

Falls and caves are just about an hour away from the city.  You can see a cave in the morning and swim at one of the falls in the afternoon if you're tight in time. However, to fully enjoy what this charming city has to offer you should allow at least a couple of days.
The night market in Luang Prabang is not to be missed, it is amazing. The main street is closed to vehicle traffic from 5pm for vendors to set up their shops selling an extensive variety of handicrafts made by local ethnic groups. Food and drinks are sold at great prices.

Luang Prabang sees visitors from all over the globe almost all year round. It is especially lively during Lao New Year (Pimai Lao) in early April. If you're planning to visit the town at this time, make sure you book a room well in advance. See Luang Prabang Hotels page to get an idea of what available, or check prices or read views here.
Luang Prabang related pages
Like This Page?