Where is Laos ?
An often asked question
To answer the question, here is the geography of Laos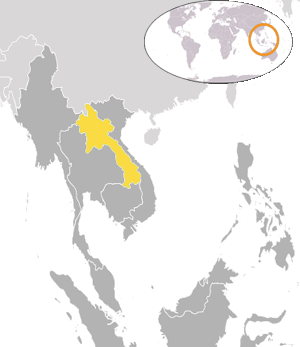 Laos is located in the centre of Southeast Asia, the geographic coordinates are 1800 N and 10500 E.
The country shares borders with Thailand, Myanmar, China, Vietnam, and Cambodia.
This small completely landlocked country is widely covered by largely unspoiled diverse and rich tropical and sub-tropical forest. The thickly forested landscape consists mostly of rugged mountains in the north and with some plains and plateaus in the south.
The highest point in the country is Phou Bia ("Phou" Lao word for mountain), reaching 2,820 metres (9,252 feet), that is located in Xiang Khuang province in the north of Laos.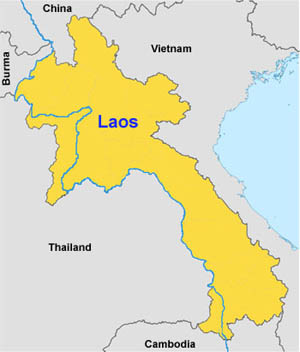 Total area of the country is 236,800km out of which 230,800 sq km is land (about 70% of this is mountainous) and another 6,000 sq km is water.
The Mekong River flows throughout the entire country that forms a large part of its western boundary with Thailand, north-western boundary with Myanmar and southern boundary with Cambodia. Whereas mountains form most of the eastern border with Vietnam and northern border with China.
These maps show where Laos is located. Check out Laos map page for more detailed maps.

Some more related pages
Search the WWW
Home | What's New | Contact Us | Link to us | Resources | Disclaimer