Where is Laos?

Where is Laos? That is an often asked question. I remember when someone asked me where I was from (when I was abroad), and when I said I was from Laos most if not all of them would ask "where is Laos", some would ask "Is Laos a city of Vietnam or Thailand?". In another occasion someone asked me  "Is Laos a country with the king named Norodom Sihanou".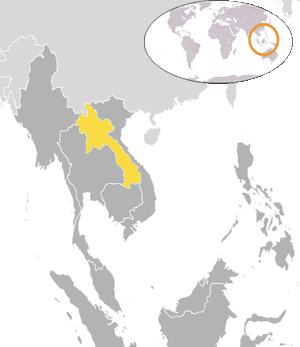 Location of Laos, see more Lao maps
Well... obviously I needed to do a bit of explanation. I cannot blame them for not knowing, can I? Laos is not that well known, not popular for anything other than a small country heavily bombed in the past, which not many people in other part of the globe know about. 
Ok, let's get to the answer.
Geography of Laos
Laos is located in the center of Southeast Asian peninsula, the geographic coordinates are 1800 N and 10500 E. 
The Mekong River forms a large part of its western boundary with Thailand which extends for 1,835-kilometres, north-western boundary with Myanmar for a stretch of 236 kilometres, and southern boundary with Cambodia (535 kilometres). Whereas mountains form most of the eastern border with Vietnam (the longest border) which extends for 2,337 kilometres, and northern border with China for a stretch of 508 kilometres.
The Mekong River, the longest river in Southeast Asia, the 7th-longest in Asia and the 12th-longest river in the world. Its estimated length is 4,350 km.  It flows through the entire Laos, from the north (Luang Namtha province) through to the south most province of Champasak before it drains into the South China Sea after passing through Cambodia and southern Vietnam.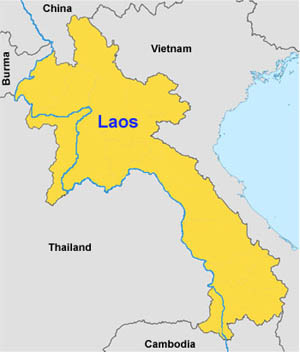 Map of Laos surrounded by neighbor countries
Laos has the greatest share of the Mekong River. It is important to the country as its people depends on the river for their food and water supply. 
Laos is a completely landlocked country, with a total area of 236,800 sq kilometres of which 6,000 sq kilometres is water, the rest (230,800 sq kilometres) is land.
About 70% of the land is mountainous which widely covered by largely unspoiled diverse and rich tropical and sub-tropical forest. The thickly forested landscape consists mostly of rugged mountains in the north and with some plains and plateaus in the south.
The highest point in the country is Phou Bia ("Phou" Lao word for mountain), reaching 2,820 metres (9,252 feet), that is located in Xiang Khuang province in the north of Laos, and the lowest point is along the Mekong River at 70 metre (229 feet).
Source: National Statistics Centre
Like This Page?