Maison Dalabua Hotel
(Luang Prabang)



Maison Dalabua, is sparkling little gem of a hotel surrounded by lotus ponds and a tropical garden in the heart of Luang Prabang. Just a five-minute stroll away from the night market and the Royal Palace, it's within walking distance of most everything Luang Prabang has to offer.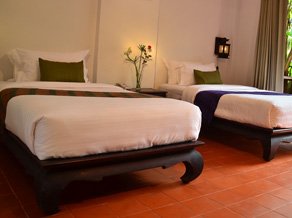 Luang Prabang International airport is just 15 minutes away.
Guests at Maison Dalabua can indulge in the serene surroundings and beautiful boutique accommodation facilities.
Maison Dalabua brings Lao culture to the guests with a genuine warm hospitality, local artwork and design.
With its 15 spacious and modern rooms, its landscaped tropical gardens with native plants, and its two amazing lotus ponds protected by UNESCO, this hotel is Luang Prabang's "Dalabua", which means, "Princess of Lotus" in the Lao language.
The tastefully furnished guest rooms are traditionally designed yet with modern amenities making for a comfortable stay, and a relaxing one.
Colonial flair and Asian touches adorn the guestrooms at Maison Dalabua. All its rooms are spacious, modern and comfortable boasting a warm color scheme, the choice of double or twin beds and a contemporary bathroom with rain shower and/or bathtub. All rooms have a flat screen cable TV, a minibar, a small safe for valuables and a tea/coffee maker.
The tropical gardens and exquisite lotus ponds also add to the relaxing atmosphere of this property. Rabiang Bua Bar is an oasis next to the lotus ponds where you can enjoy a drink or a taste of Lao traditional food.
The hotel offers free use of bicycles to its guests which gives you the freedom to visit the town whenever you want, at your own pace. Airport transfers are also available.
Friendly and helpful front desk staff are fluent in English and are ready to go above and beyond to help the guests.
For your convenience, here is contact info of the hotel.
Maison Dalabua Hotel
Ban That Luang, Phothisarath Rd
Luangprabang, Laos PDR
Phone: +856 71 255 588
www.maison-dalabua.com
Feel free to contact them for any enquiry or if you would like to book your room directly with them though it's often more expensive for walk-in or direct booking in general. If you'd like to book it online, here is the link to the third party booking site. You can read reviews, check availability and rates, or book.
More Hotel pages
Don Chan Palace Hotel
Laos Accommodations
Lao Hotels
Vientiane Hotels
Luang Prabang Hotels
Pakse Hotels
Laos Guesthouses
Apartment Rental and Monthly Hotels
Home | What's New | Contact Us | Link to us | Resources | Disclaimer