Laos - Cambodia Bus Service

Looking for information on Laos – Cambodia bus (or reverse route)? This page gives just that.
There are daily buses connecting Laos and Cambodia, from Vientiane, Pakse, 4000 Islands (Don Det) to Phnom Penh and Siem Reap through Stung Treng, Kratie and Kampong Cham. The service is provided by a Lao bus company and a Cambodian bus company in rotation basis.

Vientiane ➜ Phnom Penh (via Pakse)
The Laos - Cambodia bus (to Phnom Penh or Siem Reap) departs from Vientiane, southern bus station (at its new location 700m from the old one at Dong Dok), at 8.30pm. It arrives in Pakse around 6:00am the next morning. You need to change buses in Pakse (just get off one bus and hop on another) at KM2 bus station. The bus to Cambodia departs from Pakse (KM2 bus station) at 7:30am, and arrives at Phnom Penh Sorya Transport station next to Phsar Thmey (Central Market) arround 8:30pm.

For Pakse–Phnom Penh leg, it can either be a Lao or a Cambodian bus depending on the day you travel. The route is operated in rotation basic.
All Laos-Cambodia buses and minivans to Phnom Penh and Siem Reap stop in Stung Treng, Katie and Kampong Cham to drop off/pick up passengers.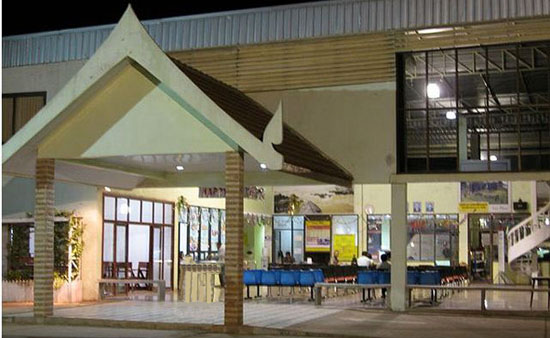 KM2 bus station in Pakse
Phnom Penh ➜ Vientiane (via Pakse)
The bus departs from Phnom Penh bus station at 6:45am and arrives at Pakse (KM2 bus station) around 7:00pm. A change of buses is required here. If you don't book your bus all the way through to Vientiane, you have about an hour or so to sort out your ticket for Pakse-Vientiane leg, otherwise you will be transferred to the bus after getting off the Phnom Penh-Pakse bus. Please take care when tranferring from one bus to the next, in many cases your loaded bags/luggage are not automatically transferred for you. You need to take it yourself.
The bus departs from Pakse bus station around 8:00-8:30pm, and arrives in Vientiane around 6:00am the next morning.
The buses used for Vientiane–Pakse leg are Lao buses.  They are either sleeper VIP or non-sleeper VIP buses, but all should be comfortable.

Vientiane ➜ Siem Reap (via Pakse)
Passengers going to Siem Reap will be put on the same bus as those going to Phnom Penh, they are then transfered to another one in Kampong Cham. If you travel all the way from Vientiane to Siem Reap you will need to change buses twice, one in Pakse and another in Kampong Cham. The Kampong Cham – Siem Reap leg uses Cambodian buses or minivans.

The bus arrives at Siem Reap central bus station or Chong Kov Sou station located 7km west of the town, near Phsar Leu (the 'Upper Market'). This is where all buses arrive to and depart from.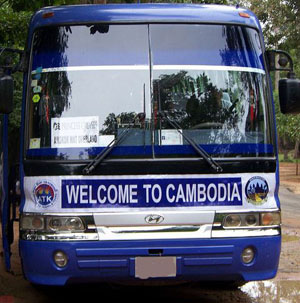 Laos - Cambodia Bus
Siem Reap ➜ Vientiane (via Pakse)
The bus departs from Siem Reap at 5:30am and arrives in Kampong Cham in time to connect with the bus from Phnom Penh. Here, you will be transfered to either the Phnom Penh bus or a minivan. In some cases, buses or minivans will take you to the border and transfer you to Lao buses or minivans to take you to your final destination

How to book Laos - Cambodia Bus
There are a few ways to buy bus tickets, through travel agents, at the bus station prior to boarding, or through tickets booking sites (online). For your convenience here are quick links to online booking sites. 
Please note that some routes in the list on this page might not be available through online booking, and some routes that are available through online booking might not be in the list. So...don't be confused if/when you do a search and the results don't match. If you can't find it online you may be able to book it through a travel agent or buy the ticket at the bus station.
For enquiries, call +856 (0)31 212428, bus station at KM2 in Pakse.
Laos - Cambodia Bus Fares
(prices are for one-way)
Vientiane – Phnom Penh: US$53.00
Vientiane – Siem Reap: US$56.00
Pakse – Phnom Penh: US$32.00
Pakse – Siem Reap: US$30.00
Pakse – Kampong Cham: US$20.00
Pakse – Kratie: US$22.00
Pakse – Stung Treng: US$17.00
Note:Ticket prices are provided as a guide, they subject to change without notice

Laos - Cambodia Bus Conditons
The buses used for Laos-Cambodia bus service are VIP or sleeper buses which are relatively comfortable. They are air-conditioned with a toilet on board. A free bottle of water and a towel come with your ticket. 

To make your border crossing smooth and fast, immigration forms are provided on board prior to arriving at the border.
Minivans
There are also minivans connecting Pakse and Siem Reap, and Don Det and Siem Reap. They leave Pakse and Don Det at 8:00am, cross the border around noon, stop in Stung Treng for lunch and arrive in Siem Reap around 7:00pm the same day.

Generally minivans are faster and more comfortable or at least they have more legroom than buses.
Often, minivans from Pakse and/or from Don Det drive you to the border, then switch to a Cambodian minivan for the rest of the trip. You may or may not be informed about this when you book your seat. It is a wise idea to make sure everything is clear before booking or you may later have a surprise which is often not a pleasand one when it comes to changing buses/minivans especially in this region.
It is not uncommon that travellers book their seats on a (more expensive) bus that is supposed to give them a comfortable ride, and later realise that they are put on a crappy old one or in some cases they get to travel on a nice and comfortable bus for the first 30 minutes or so, and then are transfered to a cheaper, less comfortable one for the remainder of the journey. This doesn't mean to scare you off, it is only means to informed you that this kind of things can happens. So...take care.
How to book the minivan
You can now book a van online either through Camboticket.com or 12go.asia though there isn't a wide range of vans to chose from as not many companies offer online booking. If you're already in the area, contact local travel agents or your hotel/guesthouse to organise it.
Vans run daily so booking a day or two ahead should be adequate.
Laos - Cambodia Road Conditions
The new sections of Cambodia's National Route No.7 to Stung Treng and Kratie, were completed some years ago, that makes travelling by road smoother and faster. The bus journey from Phnom Penh to Dong Kralor border crossing point shouldn't take more than 7 or 8 hours.
On the Laos side, the roads from the border to Pakse town and Vientiane are paved and in good condition. And most of the southern part of Laos is flat,  so your Laos–Cambodia bus adventure should be pleasantly smooth and enjoyable. 
Visa on arrival is available at the border (both sides)
Lao entry visas are now issued at  the Laos-Cambodia border despite outdated information floating around the internet saying they are not. Lao visa on arrival has been made available at this border since early 2010.
Despite being in the middle of jungle, a Lao custom building has been built at the border and better facilities are in place to enable the provision of Lao visas on arrival. If you're still not convinced please check out messages posted by travellers who crossed the Laos-Cambodia border in the recent years and got a Lao entry visa on spot. Or check visa on arrival page for Lao visa requirements and related information.
The Laos-Cambodia bus crew can do the visa for you for a small fee (for both Lao and Cambodia visas), but if you want to do it yourself it's not a problem, the bus waits as long as the process takes.
Enjoy your Laos–Cambodia or Cambodia-Laos bus trip and happy travelling.
Other bus pages
Like This Page?