International Buses

This page provides an overview of international buses in Laos.
There are several buses running between Laos and its neighbouring countries including Thailand, Cambodia, Vietnam and China.

Buses range from modern and comfortable air-conditioned vehicles with reclining seats or beds (known as sleeper buses) to basic buses. Bus stations offer anything from small local restaurants to better facilities. It's all part of the travel experience.
International buses Laos - Thailand
International buses to Laos run from many locations in Thailand including Bangkok, Nakhon Ratchasima, Khon Khaen, Udon Thani, Nong Khai, Nakhon Panom, Mukdahan, Ubon Ratchchathani, and Chiang Mai.

The buses run to/from several towns/cities of Laos that share a border with Thailand including Luang Prabang, Vang Vieng, Vientiane Capital, Thakaek, Savannakhet, and Pakse.

Visa on arrival is available for both Laos and Thailand, but some buses don't wait long enough at the border for a long process of obtaining a Lao visa. Visit Laos-Thailand bus page for more information, bus schedules, prices and more.

International buses Laos - Cambodia
Laos-Cambodia international buses are available from many towns in Cambodia including Phnom Penh, Siem Reap, Kampong Cham, Kratie, and Stung Treng.

All the buses from Cambodia go to Pakse (the capital town of Champassak province that shares border with Cambodia). If you want to continue to Vientiane, you have to change buses at Pakse station. 
Use the search box below to check bus routes, ticket price and schedules.
International buses Laos - Vietnam
There are several buses running between Vietnam and Laos to/from many border towns as well as the capital cities of the two countries.
Laos' provinces that have bus connections with Vietnam's towns/provinces are Huaphanh, Oudomxay, Xiengkhuang, Luang Prabang, Vientiane Capital, Bolikhamxai, Khammuan, Savannakhet, Pakse, and Attapeu. Visit Laos-Vietnam bus page for more details, or check bus timetables here 
Lao visa on arrival is available at most Lao-Vietnam border checkpoints. However, Vietnam doesn't issue visa on arrival at the borders, you will need to get your Vietnam visa beforehand if you plan to enter Vietnam by bus.
International buses Laos - China
Laos-China international bus service is available for a few destinations.
Most Laos-China buses run from/to Kunming, Mengla and Jinghong in Yunnan, China. Laos' towns/provinces with bus connections to China are Phongsaly, Luang Namtha, Oudomxay, Luang Prabang, and Vientiane Capital. Visit Laos-China bus page for more information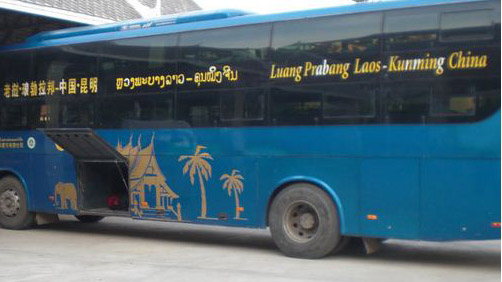 Please note that Lao visa on arrival is only available at Mohan-Boten border checkpoint. If you plan to travel to Laos by bus from China crossing other checkpoints you need to get your visa beforehand. To find out which checkpoints issue visas and which don't, please visit the Lao border page.
Likewise if you plan to enter China over the Boten crossing you must have a valid China visa in your passport. China does not issue visas on arrival.
You can also catch buses on the Chinese side of the border if you are travelling in Northern Laos. It is possible to get a minibus from Luang Namtha (you can share) and cross the border on foot. Then pick up a Chinese bus to Mengla or Jinghong on the Chinese side. These are cheap, efficient, clean and run regularly.
There is also an excellent day/sleeping bus from Jinghong to Kunming which provides loads of room and big windows for watching the world during your nine-hour ride.
Like This Page?