Elephant Village
The elephant village (also known as elephant camp) is one of popular tourist destinations in Laung Prabang featuring numerous pachyderms. 
It offers many outdoor activities for both young and old alike. There are activities for everyone ranging from elephant feeding, elephant bathing, elephant village tour (exploring elephant hospital, elephant museum and learning how to make dung paper), jungle trekking and visiting waterfall are also available. 
Note: Elephant ridding is no longer offered.
If you are not into interacting with the elephants, you can take in fresh green landscape surrounded by unique panorama views and peaceful nature. You can also explore the elephant hospital, watch the elephants bathe and work in the tranquil riverside setting (you can also swim in the river if you want). You can take a boat trip to nearby Tad Sae waterfall. Its clear water is very relaxing to look at (not sure if you are allowed to swim there though).

How to get there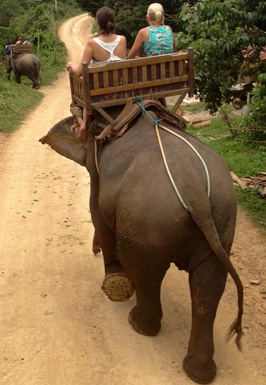 The elephant village is located about 15 km southeast of Luang Prabang, in the jungle on the banks of the Nam Khan River next to Ban Xieng Lom (In Lao Ban means village).
It takes approximately 30-45 minutes to travel from Luang Prabang to the elephant village.
The best (and recommended) way to get to the elephant village is with a tour. When you buy a package tour, you will be picked up from your hotel or guest house in Luang Prabang, and then dropped off at the end of the trip by air-conditioned van.
You can book a tour online through the elephant village's own website (www.elephantvillage-laos.com) or through its partners' websites. If you're already in Luang Prabang, you can drop by their sale office on Sisavangvong road (in the night market area) in Luang Prabang, or call for enquiries at 071-252-417 or 5555-2975. Available package tours are half-day, one-day and two-day tour. Its partners may modify their tour packages by adding more activities such as biking or kayaking.
Getting
 to the elephant village by yourself
It is possible to get there by yourself but not recommended because the site receives most of its visitors in a form of tour groups with prior arrangement, when you arrive by yourself you might not get the best welcoming. 

Price
Prices widely vary from different agencies, from $30 USD to $250, depending on what's included (eg. kayaking trip, trekking, visiting Pak Ou cave, etc.)

Accommodation and Restaurant

Elephant Lodge located on the bank of the Nam Khan River, just a few hundred meters from the elephant village, which is connected by a small path. The lodge has six rooms (three double and three twin rooms).
The river side Elephant Camp Restaurant is open for lunch and dinner.
Like This Page?