Lao Visa Extension
There are a few ways to get Lao visa extension if you want to stay longer in Laos when your visa expires. You can do it yourself, or have a service provider to do it for you.
It is possible to get all types of Lao visa extended (except for Transit Visa) at the immigration office in Vientiane. It costs 20,000kip (around US$1) per day if you apply before or on the expiry date. However, if you do it after the expiry date you will be fined for US$10 per day for the days you over stayed.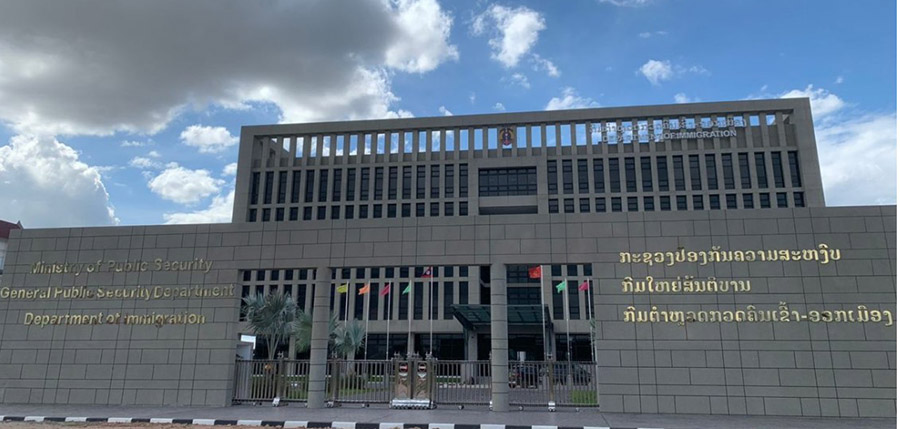 Visa extension outline
Do it yourself - At the Immigration Office:

If you are in Vientiane, you can apply for visa extension by yourself at the Immigration Office at the following address:
Department of Immigration
NongBuek-Dongnaxok Road, Dongnaxok Village,
Sikhottabong District, Vientiane Capital.
Phone: 021 219 607
Hotline : 1502
The office is open Monday to Friday, from 8:00-16:00 (closed 12:00 to 13:00 at lunchtime), and it is closed for applications on Friday afternoon.
The Immigration Office has been relocated to its new place a while ago,  it is a little further away from the city center, however, you can easily take a Tuk-Tuk or a taxi that readily available from the city. There is no longer the office at the building behind the Joint Development Bank (JDB) on Lane Xang Avenue, opposite the Morning Market.
Requirements
Your passport
One ID/Passport type photo (size 3x4cm)
Cash to pay fees including:
- Service fee: 25,000kip (now less than US$2)
-  Visa extension fee: 20,000kip per day for normal extension, or US$10 per day for days that you have overstayed (if you have overstayed). Laotian holding foreign nationality pay half of the fee (10,000kip per day).
The process is straight forward, just fill out the application form then submit together with your passport, the photo and pay the fees. You will then be given a receipt with the date to pick up your passport . In normal circumstances the process takes 1 (one) business day which is often the same day.
If you only plan to stay for a few more days this option could work out best.
Note: If for some reasons you can't make an effort getting to the immigration office for visa extension but want to stay a few more days, then you might as well just stay as long as you prepare to pay the fine (US$10 per day). This fine will be collected on your departure.
However, be advised that this might not be a good idea if you plan to exit Laos at border check points other than Lao-Thai Friendship Bridge in Vientiane, or main airports as you might risk being taken advantage of by some not-so honest officials when it comes to paying the fine.

Do it yourself - Visa Run:
What you do is just leaving Laos at an International border checkpoint nearest to where you reside and crossing back at the same or other international checkpoint to get Lao visa on arrival. The visa fee ranges from US$30-US$50 depending on nationalities. You can repeat this for a maximum of 2 times (30 day stay each time  (if it is not already changed that I don't know about).
If you are in Vientiane, Savannakhet or other provinces close to international border crossing points, you can cross the border to one of the neighbor countries then return and get a Lao visa on arrival at the checkpoint. 
In Vientiane Capital it is very easy, you can take a public bus (costs less than US$1) from the city to the Lao-Thai Friendship Bridge, complete the immigration procedures on the Lao side then take the shuttle bus to the Thai immigration  checkpoint and enter Thailand. If you want to cross back into Laos right away, you simply walk to the departure channel just a few meters away, get a Thai stamp-out at one of the immigration windows. Then once again, get the shuttle bus to cross the bridge back to Laos and apply for a Laos Visa on Arrival. The process takes around 2 hours if you don't spend time shopping in Nongkhai.
Do it through a Travel Agent or a Specialist Provider:
Get a travel agent or specialist provider to do your Lao visa extension for you. 
Most travel agents can arrange it for you with a small fee. This varies between providers, so shop around for the best deal. 
This option is better for those holding a type of visa other than a tourist visa because it involves more paper work and it's more complicated and would take you more time and money if you did it yourself. 
I would also recommend this option to holders of tourist visas who plan to travel in provinces other than Vientiane Capital where there are no immigration offices and the visa run (exit the country and enter again) option is not possible.
Whichever option you chose, be reminded that your passport must have at least 6 months of remaining validity with a blank page for a visa stamp and two passport type photos, and of course cash for the visa fee. If you do visa run, preparing cash in smaller notes will save you some hassles. The visa fees are listed in US Dollar so... it is better to pay it in the currency quoted. You can of course pay in Lao Kip or Thai Baht if you would prefer, exchange rate might not be in your favor though.
Like This Page?