Money Matter
If you are like many of us, money matter will have much of your attention when it comes to planning a trip. You may have a lot of questions when trying to budget your trip to Laos. This page is to help you prepare or at least gives you a rough idea by answering some of possible questions regarding money: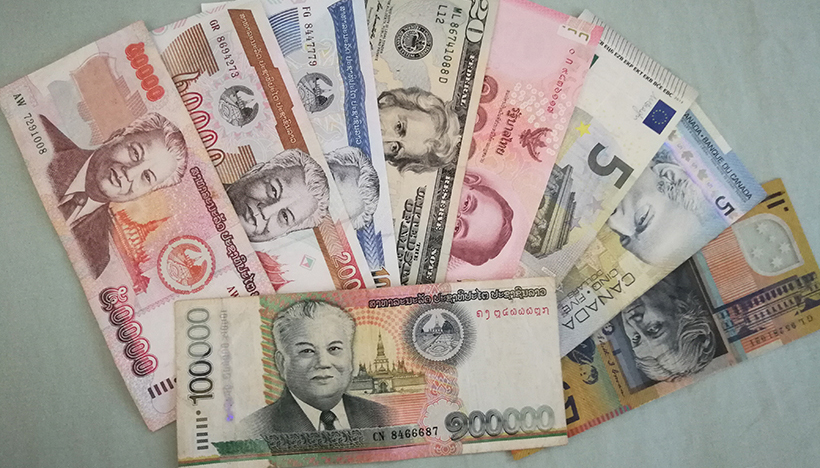 LAK and some of currencies exchangeable in Laos
Money Matter- How much money will you spend per day in Laos
It pretty much depends on individuals, but for the purposes of budgeting, I came up with a rough figure, based on average estimation (for average travelers). 

You can budget for around $60 per day per person (I rounded it) including accommodation, food, drinks, sight-seeing and transportation (long distance transportation not included).
Budget for more if you want to shop, have more luxury meals, and get laundry done. 
Here is how I came to this figure:
Accommodation:
A hotel room (2-3 star) costs around US$25 per night per room on average , depending on the season, location and type of accommodation. As I said this is an average, you can find cheaper rooms through many hotel booking websites such as agoda.com and booking.com, they often offer a lot of discounts.
Food/drink:
Breakfast is often included in many hotels, but if not, you can eat breakfast at a café for around US$5 (a sandwich and a cup of latte or cappuccino). Yes, that not cheap. There are cheaper options (US$2-3), if you are willing to try Lao breakfast specialties like noodle soup (various types), sticky rice and grilled pork, or even Baguette Lao/French fusion food.
Water is free in many restaurants, and 1-2 bottles of water per night usually come with your hotel room. Even if you have to buy all of your drinking water, around US$3 per day will be sufficient. Here is how I got the figure. I estimated based on my own consumption of 3 litres per day max, that comes to 5 x 600ml bottles. A 600ml bottle costs around US$0.5 from convenient stores or street stalls (5 bottles x US$0.5 = US$2.5 ). In restaurants is often as expensive as a bottle of beer (Lao beer).
Lunch can be around US$4. A plate of rice topping with stir fry of vegie + meat, fried rice or a bowl of noodle soup costs around US$3 and a bottle of water or soft drink costs US$1.
Dinner can be had under US$20.
Transportation:
Much of tourist cities/towns like Luang Prabang, Vang Vieng or Vientiane Capital are walkable or require a short Tuk-Tuk ride (US$2 – US$3), so you don't need to spend a lot on transportation apart from long distance (town-to-town) transportation.  You can also rent a bicycle or a motorbike for US$2 – US$5 per day in major towns. In Vientiane Capital, you can take city buses to most of tourist sites for less than US$1 per ride.

Entry fees: 
Many tourist sites cost nothing to visit. For places like museum, historical sites or natural sites like blue lagoons or falls range from US$0.5 to US$3.  
Money Matter - How much cash you should bring 
You should plan to arrive in Laos with some cash on hand, enough to pay for a ride to your hotel from wherever you arrive at (airport, bus station) plus some for snack, food or drinks for the first hours of arriving or until you find your way around. 
If you arrive by plane, airport taxis accept US dollar, but you need to have small notes (1-20 dollar notes) to avoid hassles. There are currency exchange booths at major airports, but the rates are not that great. It's best to avoid or if you really need to convert your money to LAK, do so in small amount to avoid losing money through exchange rates.  
There are ATMs in airports and bus stations in major towns, but not many accept international cards. You need to get to major banks to find ATMs that accept international cards.
Money Matter - If any place in Laos accepts credit cards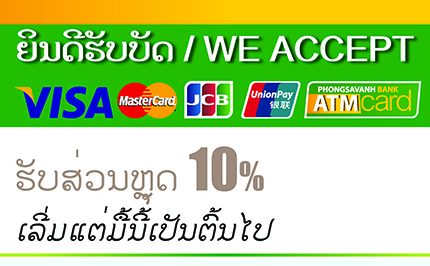 Credit card accepted sign displays at restaurants/merchants
Yes and no. Some high end restaurants, hotels and big merchants accept credit cards, others don't. For those that accept the cards, they often offer 5-10% discount.
You can also use your credit cards to withdraw money in the banks. At the counter, you can choose to have cash in US dollars or in LAK, but if you withdraw it through ATMs machines, you can only have LAK.
Money Matter - If you can bring traveler's checks to Laos
Yes, although this may be old fashioned and many banks have dropped the service, you will be able to exchange traveler's checks at some banks in Vientiane Capital. For example, Acleda Bank Lao Ltd. accepts traveler's checks in Euro and Australian dollar only. They charge a 2% fee or a minimum of EUR5  & AUD7 respectively .
In remote provinces/towns, it will be hard or even impossible to exchange your traveler's checks. I would recommend you bring it only if you plan to travel through Vientiane Capital where there are more choices of banks or if you don't have other meant such as ATM cards or Credit cards. 
Money Matter - Where you can find ATMs in Laos
In major cities/towns, quite a lot of ATMs scatter around, and you should be able to use your ATM card or credit card at many of them to get cash out. If you have a UnionPay card, you will find the ATMs to use it quite easily. Here are some >>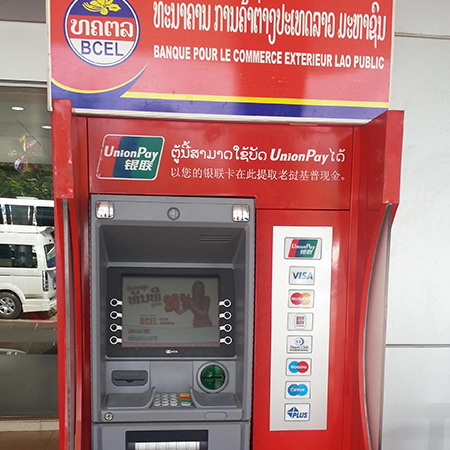 ATM machine of major bank, accept many international cards as pictured
Money Matter - Which currencies can exchange to LAK in Laos 
In the list below are currencies that can convert to LAK at major banks. Most exchange offices accept only a few currencies such as US Dollar, Thai Baht and Euro.

US Dollar
Thai Baht
Euro
Pound Sterling
Australian Dollar
Canadian Dollar
Japanese Yen
Swiss Franc
Chinese Yuan Renminbi
Danish Krone
Norwegian Krone
Swedish Krona
Singapore Dollar
HongKong Dollar
Vietnamese Dong
Money Matter

- 

What's the conversion rate to Lao Kip (LAK) from Dollars/Euro (or any currency)

Use the tool below to try converting your currency to LAK to get an idea of exchange rates. It will be slightly different when you exchange money in Laos, you might get a bit higher rate or lower rate as they fluctuate all the time. There is no surcharge to exchange cash. But with credit cards and ATM machines, there is usually a 3% surcharge.

Like This Page?